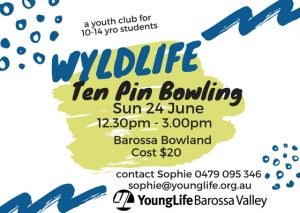 Join us at Barossa Bowland!
Wyldlife will be at Barossa Bowland for Ten Pin  Bowling on Sunday, June 24 to finish off our semester. Price includes all activities and lunch.
How do I sign up?
Print and fill in this indemnity form if your child is not yet on CareMonkey, or you have not already submitted a hard copy indemnity form this year.
Let us know you are coming by having an adult complete your details below. It will take you to an online payment page. If you plan to pay cash on the day, just close the payment window.
For more information contact Sophie on 0479 095 346.