Converge 2022
Who is Converge
Converge Oceania is a relational network, currently comprised of representatives of key ministry organisations and denominations with a vision to support and equip the church in Australia & New Zealand to continue to reach and disciple young people. We do this through prayerfully and practically supporting each other's ministries, as well as working on joint projects that will support and equip the church to more effectively understand and engage young people. Converge Oceania is a part of the global Converge movement, which sits within the World Evangelical Alliance.
What to expect
At Converge 2022 we will explore new understandings of faith formation and wellbeing that are being generated by research into Australian young people (teens and young adults). You will be introduced to key principles and practices that shape the faith and wellbeing of the people you minister to including identifying the pivotal moments, key relationships, and influencing contexts in which formation takes place.
Day 1: Saturday 8th October
(6pm-9pm)
The Ranch Hotel, 108 Herring Road, North Ryde
You're invited to connect with other youth leaders from Oceania over a meal, and hear from Dr David Wang.
Registration Fee: $20 (food and drink at own expense)
Day 2: Sunday 9th October
(9.45am for a 10am start – 4pm)
Morling College, 122 Herring Road, Macquarie Park, Sydney
You're invited to our in-person conference, where you'll hear findings from the research project from lead researchers, Dr Graham Stanton and Dr Rowan Lewis. There will also be opportunities to begin to explore the implications on the thinking and practise of youth ministry, and of the plans for the dissemination of the findings into 2023 and beyond.
Registration fee: $30 (includes catering)
RSVP by 1st October 2022
RSVP here or see links in the summary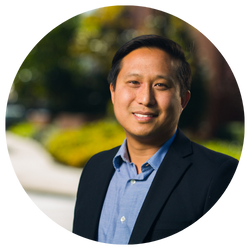 Dr. David Wang is a licensed psychologist, pastor, and currently the Cliff and Joyce Penner Chair for the formation of emotionally healthy leaders at Fuller Theological Seminary in the US. He is the editor of the Journal of Psychology and Theology and co-authored the manual on Trauma Informed Care for the International Justice Mission (ijm.org); a non-profit organization devoted to ending the global slave trade.
David is also the principal investigator of the Seminary Formation Assessment Project, a project conducting longitudinal research on the human and spiritual formation of students enrolled in 18 diverse seminaries across the US, and he is also co-principal investigator of the Trauma-Resilient Church Collective Program, a 5-year project.
He combines this focussed research into human and spiritual formation with board roles, as well as consulting for agencies that mobilize diverse local congregations to address individual and systematic factors as they meet the spiritual and mental health needs of trauma survivors, and that engage students from families of at-risk communities with higher education.
David lives in Fullerton, California, with his wife Vivian, and two daughters (Lydia, aged 15, and Sydney, aged 12). Vivian is an English and a Second Language instructor at Mount San Antonio College. In his spare time, David enjoys hiking and sports (basketball, swimming, surfing), and visits Disneyland about 40 times a year (thanks to their season passes, and living 15 minutes away).